Introducing the TURBO_CHARGED 2019 Mazda CX 5
IT'S AMAZING,THE NEW 2019 Mazda CX-5 Turbo
Premium Interior, Advanced Technology and Exceptional Performance set the
New 2019 Mazda CX-5 Grand Touring and Signature apart.
Reliable, Sporty and Fits Perfectly are the words that have defined the Mazda CX-5 since it's introduction in 2013.
This Compact SUV is responsive and versatile while being easy to drive and park. Offering an excellent reliability record, the Mazda CX-5 is also cheap to keep, allowing you to choose more equipment.
For 2019 Mazda incorporates the road proven Mazda Skyavtiv-G® Turbo Charged 2.5 ltr engine. It's proven prowess makes the Mazda CX-5 even more dynamic and allows you to engage with the exceptional handling that is the Mazda CX-5.
Premium materials give the Mazda CX-5 a Luxury appeal while inspired ergonomics place features precisely at hand, while many opt to use the voice features like Audio, Navigation, SMS Text ....
The 2019 Mazda CX-5 is the most Vibrant and rewarding SUV engineering masters can offer. A compelling extension of the driver, the Mazda CX-5 competes with other suvs above it's segment found at much higher price tags.
High quality, soft touch materials are used through-out the cabin.
Form meets function; electronic parking brake means every driver gets optimal safety.
Entertainment and communications at your fingertips, vis/touch screen and Commander Control.

Luxury appointments create an oppulant experience enricing the drivers commute .
High quality, soft touch materials are used through-out the cabin.
Premium Materials throughout, raising the bar while delighting the senses.
Elegantly designed touch-points offer a luxurious feel.

Entertainment and communications at your fingertips, vis/touch screen and Commander Control.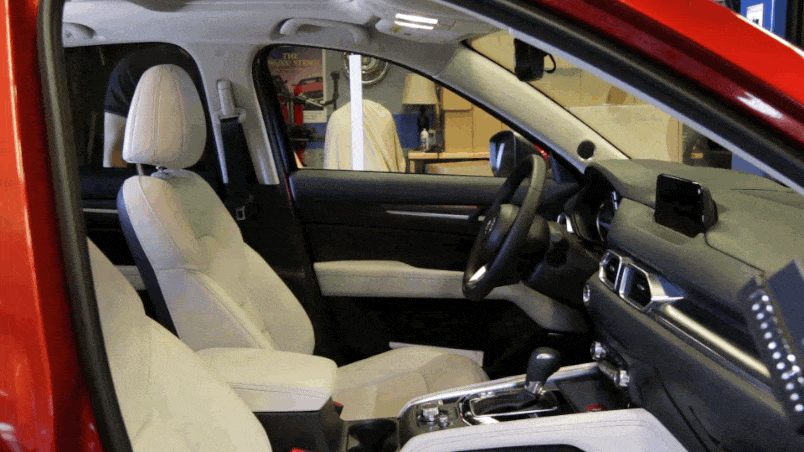 Class above engineering, meticulous engineering
and premium materials make the 2019 Mazda CX-5 accelerate and handle with up-scale dynamics
Leather wrapped steering wheel and shifter, standard on all 2019 Mazda CX-5 add a touch sophistication. Blind Spot and Cross Traffic Warning along with LED head lamps on all models help make the

2019 Mazda CX-5 THE BEST RATED - TOP SAFETY PICK PLUS

in it's class, including Nissan Rogue, Honda CR-v and Toyota Rav-4.
2019 Mazda CX-5 also incorporates more sound insulation and even a thicker windshield reducing road and wind noise to a Luxury standard, quieter than the Nissan Rogue, Kia Sportage or even the Honda CR-V
While most people define ergonomics as ease of use, Mazda feels it is the direct relationship between the driver and their vehicle; an extension of the driver

.
The main event is the AWARD WINNING SKYACTIV-G® 2.5T TURBO CHARGED Intercooled Engine. The Mazda CX-5 Sport, Touring and Grand Touring models incorporate, segment exclusive, cylinder deactivation, increasing fuel economy and reducing internal engine wear. Though imperceptible, this process deactivates to outside cylinders when cruising under a low load

.
The purpose of Technology is to improve your life
Mazda Technology is mindfully designed to improve your driving experience at each turn. To that end, features like Adaptive Front Lighting, Lane Keep Assist , 360 degree Camera, Active Driving Display and Adaptive Cruise Control elevate the driving experience. The Mazda Connect info-tainment System wth Apple CarPlay and Android Auto keeps you connected to your world; your phone, text, music and emails, all in High Definition.

Thrilling Handling and Spirited Acceleration.

PERFORMANCE-ORIENTED RIDE
Drivers can't help taking notice the changes made to the 2019 Mazda CX-5, the Turbo adopted from the Mazda CX-9 is invigorating.
Mazda's predictive i-ACTIV all-wheel drive, available on every trim level, utilizes information from 27 sensors found through-out the Mazda CX-5 to predict road conditions and send power wherever it's needed without the unnerving drivetrain reactions or slipping that can be felt in some competitors during inclement conditions.
Building on Mazda's industry-exclusive G-Vectoring Control, the new Mazda CX-5 features a refined suspension to help provide a smoother ride and improved dynamic performance. The system improves steering accuracy during cornering while providing smooth transitions through curves. Other improvements include a lower and wider platform, creating a lower center of gravity artfully placed seals and sound deadners reduce interior noise while making the new Mazda CX-5 even more connected and responsive to the driver's inputs.
That's why the CX-5 rides like a more expensive vehicle. Pavement imperfections are isolated, road noise is minimal, and the damping is neither stiff nor floaty. At the same time, the Mazda comes alive on curvy roads. Electrically assisted steering provides responsive handling and connects the driver to the road.
The best way to understand the new Mazda CX-5 is to drive one for yourself. When you do you'll agree ...

Advance Safety Technologies
The 2018 Mazda CX-5 carries forward the Safety Features that have made the Mazda CX-5 a "TOP SAFETY PICK PLUS". Here's a short list of the invaluable technologies you'll encounter on the all new 2018 Mazda CX-5:
NEW G-VECTORING CONTROL (GVC)
Standard across all CX-5s. When combined with the extreme lengths Mazda went to quiet the cabin, as well as its 15 percent stiffer chassis, GVC adds a confident, refined dynamic to the driving experience .G-Vectoring Control, helps you steer more precisely by optimizing load control. Just like an athlete refines his form to hit the ball further with less force, our technology strives for the same efficiency. Instead of strengthening the vehicle's muscles, we improved how it delivers force. The effect is subtle, but how you feel after a great drive isn't. Why go to these lengths? Because we believe no detail is too small when it comes to making driving better.
LANE DEPARTURE WARNING SYSTEM

:
Alerts you when you're unintentionally about to depart from your lane at a
speed of approximately 37 mph or higher.
LANE KEEP ASSIST

:
Adds to the warnings of the Lane Departure Warning System by performing minor steering corrections to re-center the vehicle in its lane upon sensing an unintentional lane departure

.



ACTIVE DRIVER DISPLAY

:
The available Active Driving Display, A full color projected on the windshield, infront of the driver, helps take your mind off distractions by displaying critical driving information directly in front of you. Strategically positioned in your field of view and above the gauge cluster, this innovative display allows you to process information faster by keeping your eyes focused toward one place—the road ahead.
TRAFFIC SIGN RECOGNITION (TSR)
:
Using strategically mounted cameras, available Traffic Sign Recognition System
4
can actually read
road signs such as Speed Limit, Stop, and Do Not Enter. This information then shows up in the Active Driving Display, so you can stay alert and informed without taking your eyes off the ro
ad.
Blind Spot and Cross Traffic Warning System:
Mazda has offered Blind Spot Warning since 2008 in many models. However, mazda
now offers Cross Traffic Warning with Blind Spot
Warning to give audiable a
nd visu
al warning and help prevent an accident. BLIND
SPOT WARNING:Radar sensors detect and alert
when objects are in your left and right blind spots. It also warns when fast-travelling vehicles areabout to enter a blind spot from further behind. CROSS TRAFFIC WARN
ING:
As you
reverse, this system promptly alerts you
on the back-up
monitor, as well as on the side
view mirrors, when it detects a vehicle approaching from the
side.
DEPARTURE WARNING SYSTEM / LANE KEEP ASSIST

:
LANE DEPARTURE WARNI
NG SYSTEM alerts you when you're unintentionally about to depart from you
r lane at a speed of approximately 44 mph or higher. LANE KEEP ASSIST:

adds to the warnings of the Lane Departure Warning System by performing minor steering

corrections to re-center the vehicle in its lane upon sensing an unintentional lane departure

.
DRIVER
ASSISTANCE TECHNOLOGY

:
Advanced features like Smart City Brake Support

operates while
travelling at low speeds, this system detects objects ahead. If an impact is predicted, the system will adjust the brake pads closer to the disc for faster braking, or apply the brakes if you're unable to
ADAPTIVE FRONT-LIGHTING

SYSTEM:
These headlights are specifically designed to help you see around corners at night. As you
turn into a corner, the headlights pivot up to 15 degrees in the direction of your turn, improving visibility and allowing you to spot potential hazards and dangers ahead.
ADAPTIVE RADAR CRUISE CONTROL:

Simply Amazing!
This system coordinates throtle, cruise control, brakes and brake lighting automatically to maintain a safe following distance from the car ahead, interviening you when it senses your vehicle fast approaching the one ahead.
Dynamic Stability Control with Traction Control System

:
Sensors monitor for over-steer, under-steer, and wheel slip to apply braking and help you maintain control of the vehicle.
https://www.msmazda.com/the-2019-mazda-cx-9-7-passenger-suv-maple-shade